Thanks to everyone who participated and spectated, see you next year!
The tournament
On Saturday the 11th of November, all the players of ETH Zürich and EPF Lausanne will once again face off in a highly competitive chess match, the
POLYCHAMPS IV
The match has a unique hybrid format where the top 8 players of each university will play a classically time controlled team match in the world renowned Rolex Forum on the EPFL campus. A blitz lichess arena opposing all chess enthusiasts of both universities will be played online at the same time. It is free to join and open to all levels for members of ETHZ and EPFL. Details on registration can be found below. The specific rules are described on the rules page. All the action will be live streamed and commented on Twitch.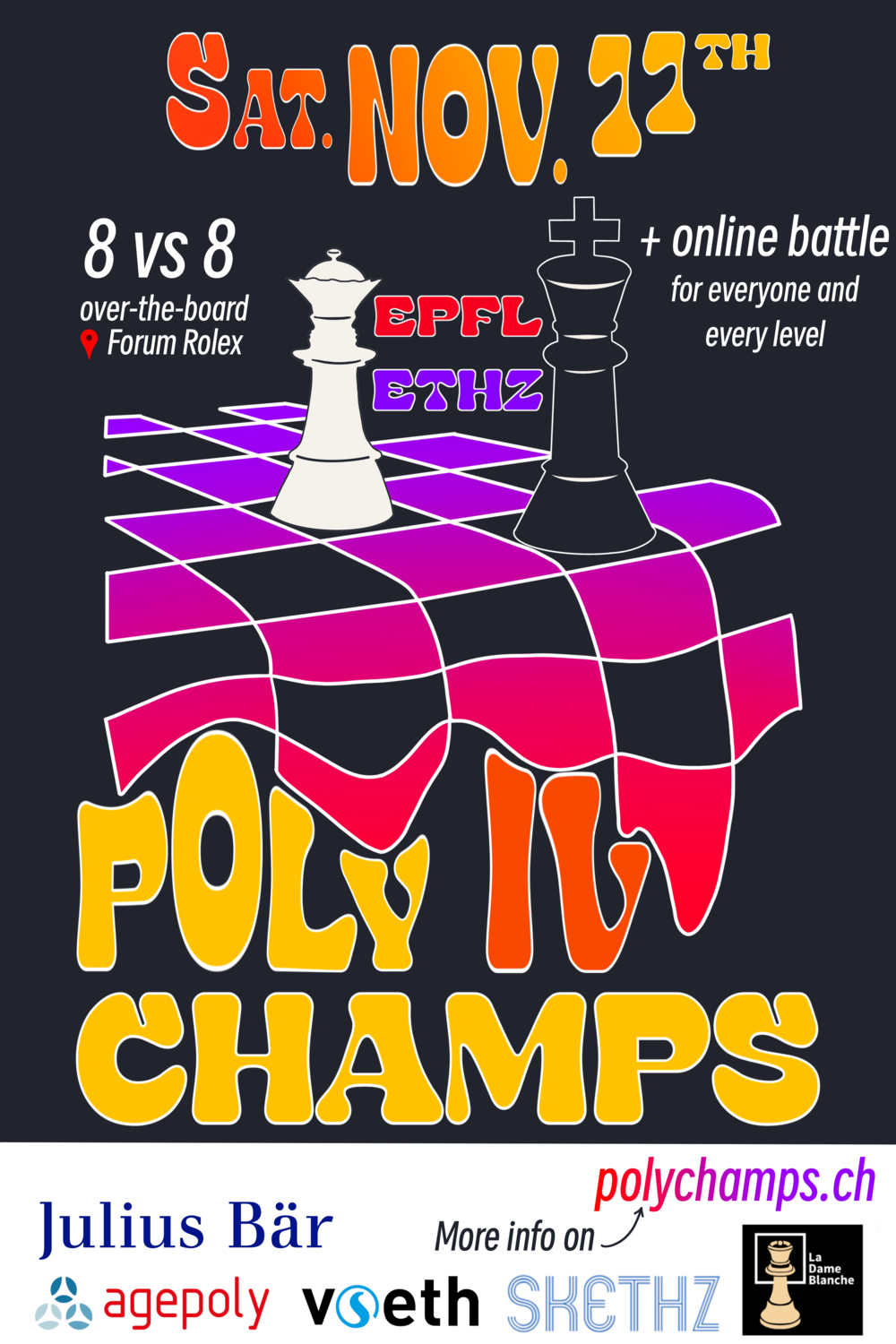 Schedule
12:00-13:15

Lunch for players and guests

13:15-13:30

Beginning of broadcast, opening speeches and start of games

13:30-17:30

OTB games

14:30-16:00

Online tournament

17:30-18:00

Award Ceremony

18:00-19:00

Apéro with guests and sponsors
The Teams
Team ETHZ
IM Theo Stijve 2332

FM Noah Fecker 2387

Kirill Zaitsev 2242

Vincent Lou 2174

Oliver Angst 2094

Anna Adzic 1908

Sofia Li 1307

Ana Marija Vego
Team EPFL
FM Niels Willems 2372

Damien Ribière2221

Julien Joly 2218

Oriol Saguillo 2182

Samuele Bisi 2070

Benedict Wasserfallen 1853

Victoria Tokplo 1646

Sophia Pheng 1128